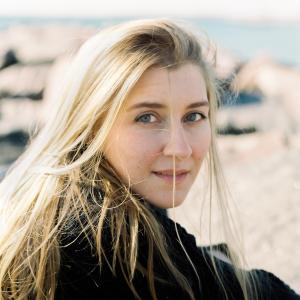 Oksana Berda
Artist member since 2018
Toronto, ON
Get to know me via my Photo Diaries! (http://www.oksanaberda.com/photodiary/)
Every artist is a seeker. Answers manifest as finished (or unfinished) works of art, of which there are endless variations, because there are endless questions. An artist's style is constructed from choices they make, paths they choose to travel along.
Oksana Berda crosses paths with those also pursuing something intangible: the softness of her colour palette recalls that of Agnes Martin; her precise use of geometry, Frank Stella; from David Burdeny she inherits a sense of curiousity towards the natural world and shares Andy Goldsworthy's affection for its textures.
Berda holds an MA in Creative Writing from the University of New Brunswick, which explains the poetic nature of her practice. Her recent work studies interactions between stone, sand, water and wood. Gathering details from each landscape, she reassembles them as ghostly washes of blue, red and purple watercolour, braids of graphing pencil, and soft pastel lines which contain the forms that might otherwise stretch out and over the edge of the paper. Berda treats colour as character; in her work forms interact and converse: they are introduced, they marry and separate. Isolated elements are enlarged and exaggerated; new shapes emerge. In Dusk 1, a webbed foot; in Last Light 1, a swollen heart. Her materials move with precision, yet are free and spontaneous; painting on the threshold of abstraction, Berda's compositions embody the spirit of jazz music.
In Berda's work there is a strong sense of familiarity, of something seen or felt and scattered by memory. There is a certainty to how Berda reassembles the landscapes she studies. She is able to break down forms and patterns into a looser geometry, allowing them to unfold like origami and using them as metaphors to describe a search for something that may never be found, but must be pursued nonetheless. As Berda says herself, the point is to paint forever.
[words: Aaron Friend-Lettner]
---
What do you listen to when you work?
Podcasts! Currently: BingeMode, but also anything produced by The Ringer.
Favourite movie
The Talented Mr. Ripley
Why is art important to you?
To me art represents everything that makes life good: hope, imagination, grit, innovation, individuality.
How long have you been creating art?
My whole life, but I went full time with painting in December of 2017!
Favourite medium
I work with mixed media and my favourites are ink, watercolour, acrylic and pastel. I love the endless ways they mix and change.
Favourite book
My favourite book to reread is a collection of poetry by Sharon McCartney titled "For and Against"
What do you mean, "try"?
Try-before-you-buy with a 3 month rental. 100% of your rental payments go towards the purchase (interest free). Message the artist directly, and start the conversation.
---
Art made (truly) affordable
We make it easy for you to try art with smart payment plans and try-before-you-buy models.
See How It Works
---
You're covered.
Artwork protection is included on all art rentals up to $5K. Our Customer Care team is always here to help.
Contact Us
---
Unlock Trade Access
For industries including interior design, film/TV production, & real estate staging: rent original pieces that fit with your project vision, budget and timeline.
Apply for Trade Access
---
1% from every transaction goes towards SKETCH WORKING ARTS.